We are proud to announce the new Doctor Evazan album "Fold Reality". Available for download on our Bandcamp page.
Doctor Evazan – Fold Reality
Format: Digital (WAV, FLAC, MP3)
Catalogue number: OHDIG001
Release date: 21st of May 2016
Doctor Evazan is the brainchild of Jens Eriksson. An established Swedish beat maker with a love for dark flavoured dirty beats and hypnotic soundscapes.
We, at Oval Harmonique felt that his previously self-released Hip Hop instrumentals deserved a professional mastering in order to enhance sonic characteristics and to create consistency across this album.
Out of his impressive catalogue of free released beats on his bandcamp page, Jens made a great selection for us to re-release. They've all been fine-tuned by a skillful mastering engineer @ Trouble Studios from the UK.
And last but not least.. Two previously unreleased beats are included in this album called "Fold Reality". All this comes accompanied with artwork created by MadeInRealtime.
_-~ TRACKLIST ~-_ ////////////////////////////////
1. Moanfunk
2. They're Not Human
3. Mundane Weirdness
4. What Goes Around, Ghosts Around
5. Urminnes Tider
6. Nightmuusick
7. Canine Tendency
8. 52 Exorcisms
9. Psitaren
10. The Only Way To Harm Them
11. Fold Reality
12. Darksense
13. Intro
14. Sneak
15. Ghoul Play It Cool
16. Intermezzo 2
17. Adopted By Aliens, Part 1
18. People Of The Sky
19. Briggs Secrets
20. Absolute Empty Space
21. Adopted By Aliens, Part 2
22. Intermezzo 4
23. Bossks Beat
24. Majic Forest
25. Out
All tracks written & produced by Jens Eriksson
_-~ ARTWORK ~-_ /////////////////////////////////
Made by: MadeInRealtime
Artwork:: www.ovalharmonique.com/promo/OHDIG001/artwork
_-~ INFO ~-_ //////////////////////////////////////
Mastered by: Trouble Studios
Available at: Bandcamp
_-~ EXTERNAL LINKS ~-_ ///////////////////////////
Bandcamp
Discogs
Facebook
Istagram
Soundcloud
Youtube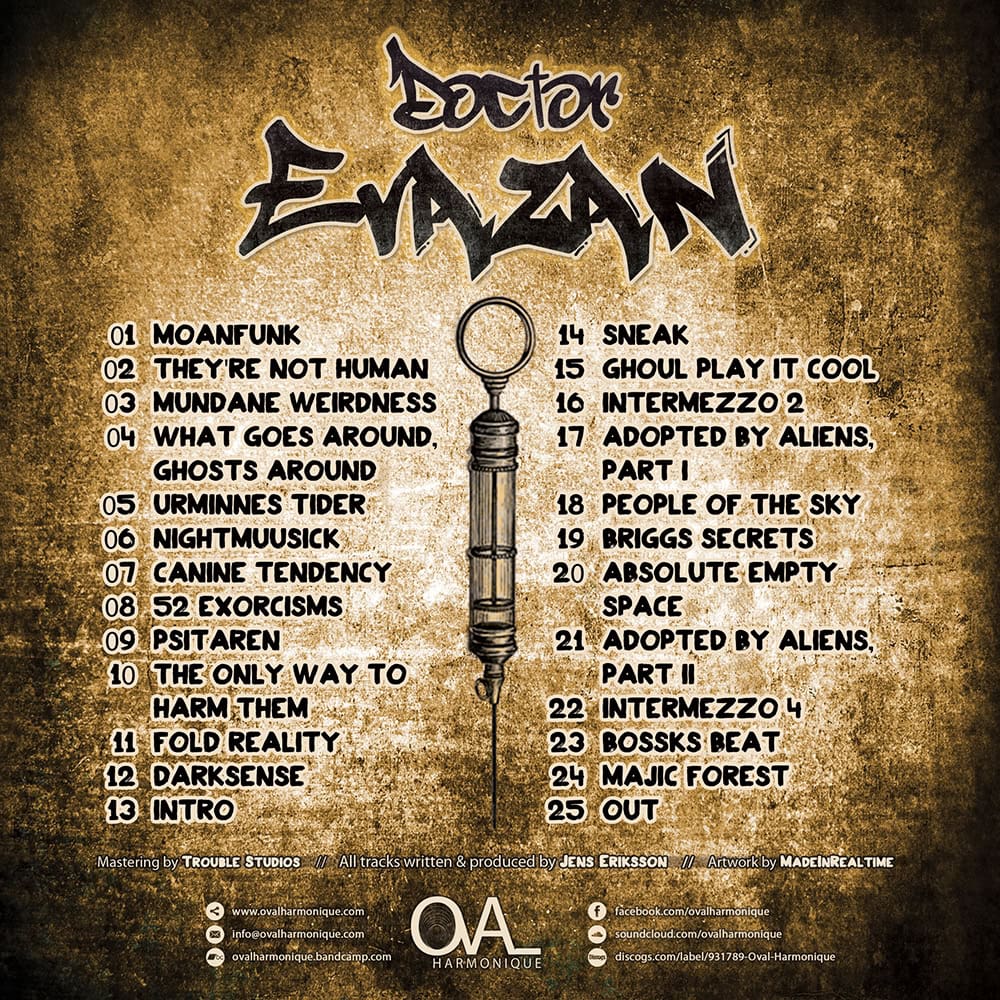 ---